Listen
Please update your browser.
WORKS FOR CONCERT BAND
As an undergraduate at the University of Miami, Kenneth Fuchs studied composition with Alfred Reed, one of the foremost composers for band. While at Miami, Fuchs also played flute and piccolo in the wind ensemble conducted by Frederick Fennell, perhaps the most influential American band conductor since John Philip Sousa.
Bands of the United States Air Force have commissioned five works by Kenneth Fuchs. The bands are:
USAF Academy Band — Commander and Conductor Col. Larry H. Lang; Commander and Conductor Lt. Col. Donald E. Schofield Jr; TSgt. Ryan Janus, saxophone
USAF Band of Flight — Commander and Conductor Capt. Daniel W. Boothe
USAF Band of Liberty — Commander and Conductor Col. Larry H. Lang
USAF Heritage of America Band — Commander and Conductor Col. Larry H. Lang
EXCERPTS
From the Field to the Sky, 2012 — United States Coast Guard Band (Jeffrey Renshaw, conductor)
Rush (Saxophone Concerto), 2012 — "Morning" (second movement) — United States Coast Guard Band (Jeffrey Renshaw, conductor; Greg Case, soloist)
On Silver Wings, 2006 — USAF Heritage of America Band
Burning Blue, 2004 — USAF Heritage of America Band
United Artists, 2008 — USAF Academy Band
Forever Free, 2013 — University of Connecticut Wind Ensemble (Jeffrey Renshaw, conductor)
Christina's World, 1997 — University of Miami Wind Ensemble (Gary Green, conductor)
Discover the Wild (Overture for Winds, Brass, and Percussion), transcribed from the orchestral original, 2010 — Hal Leonard Concert Band (Michael Sweeney, conductor)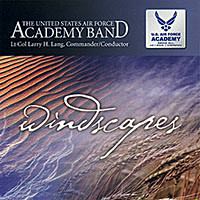 In 2009, the USAF Academy Band released Windscapes, a disc that includes Kenneth Fuchs's United Artists. Col. Larry H. Lang commissioned the band transcription from the original work for orchestra. Score and parts available here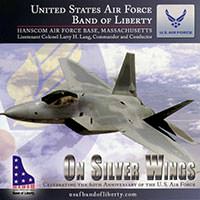 In 2006, the USAF Heritage of America Band released On Silver Wings, which features Kenneth Fuchs's On Silver Wngs, commissioned by Col. Larry H. Lang. Score and parts available here
Used by permission of the copyright owners